Cash Fares
Route 20 Regional Adult Cash Fares**
Smith River / Gas

–

quet
Cre

–

scent City
Kla

–

math
Orick / Red

–

wood N.P.
Hum

–

boldt County
Eureka
Smith River / Gasquet
$2.00
$2.00
$4.00
$6.00
$10.00
$12.00
Crescent City
$2.00
$1.25
$2.00
$4.00
$8.00
$10.00
Klamath
$4.00
$2.00
$2.00
$2.00
$6.00
$8.00
Orick / Redwood N.P.
$6.00
$4.00
$2.00
$2.00
$5.00
$5.00
Humboldt County
$10.00
$8.00
$6.00
$5.00
$5.00
$5.00
Eureka
$12.00
$10.00
$8.00
$5.00
$5.00
$5.00
**Seniors pay half this fare for applicable zone, Youth pay $1.50 in county and Adult fare for trips beyond Del Norte County.
To Purchase a Pass:
You may purchase bus passes and punch cards from the bus driver, or at Redwood Coast Transit 140 Williams Rd., Crescent City.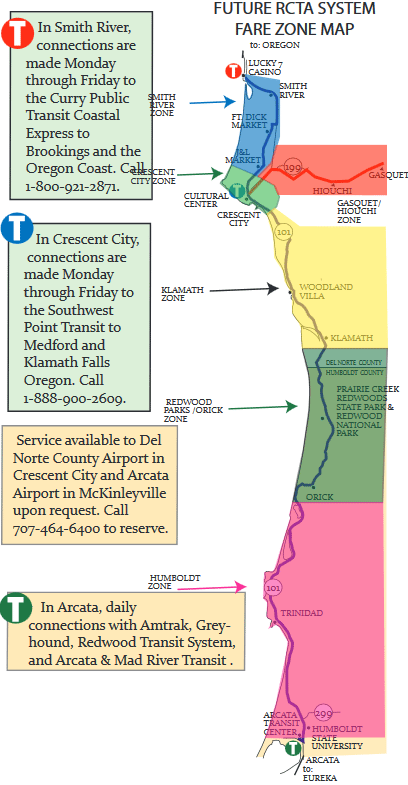 "Exact Fare, Please"
Have the exact fare or a pass ready when boarding the bus. The driver carries no change.
* Senior Discount
Age 65 and over qualify for discounts with any valid proof of age.
* Disablility Discount
Available to anyone displaying a valid Medicare ID card, a California DMV Disabled Person or Disabled Veteran ID card, or an ADA Paratransit Eligibility Certification Card.
Children
Up to two small children (age 6 or under) may ride free with an adult.
Transfers
You may transfer free of charge to any RCT Crescent City Local Route (Routes 1-4) with paid fare. Be sure to tell the driver that you want to transfer when you begin your trip. Transfers may only be made to continue a single one-way trip and are only honored on Crescent City Local Routes (not County or Regional Routes) up to 30 minutes from time of issuance.